Emily Bock '16
---
Primary Areas of Interest: Criminal defense and collateral consequences of criminal records
Ms. Bock graduated from Haverford College in 2011 with a B.A. in English Literature and a concentration in Gender and Sexuality Studies. Prior to law school, Ms. Bock was a Haverford House Fellow and worked at Community Legal Services of Philadelphia and at the National Clearinghouse for the Defense of Battered Women, also in Philadelphia. She also volunteered with the Pardon Me Clinic of X-Offenders for Community Empowerment, the Criminal Records Expungement Project of the Philadelphia Lawyers for Social Equity, and the Restorative Justice Project at the State Correctional Institution at Graterford, PA.
As a student at Temple, Ms. Bock expanded her experience with poverty law, criminal justice, and collateral consequences of criminal records by completing internships and clinicals with Community Legal Services of Philadelphia, Women Against Abuse, the New Jersey Office of the Public Defender, the Temple Legal Aid Office, and the Sheller Center for Social Justice. She was the 2014-2015 co-chair of the Temple Law National Lawyers Guild Chapter, and a co-founder of the Temple National Lawyers Guild Expungement Project.
In addition to the Rubin-Presser Social Justice Fellowship, Ms. Bock received a Beasley Scholarship, the Honorable Dolores Sloviter Public Interest Fellowship, the Henry Maxmin Scholarship, a Student Public Interest Network (SPIN) Public Interest Honors Grant, and the National Lawyers Guild C.B. King Award. She was named a Law Student of the Year by National Jurist Magazine in 2016 and a PSJD Pro Bono Publico Merit Distinction Honoree in 2015.
After law school, Emily will clerk for one year in the Superior Court of New Jersey-Criminal Division. She intends to pursue a career as a public defender or to work more broadly with people encountering and re-entering from the criminal justice system.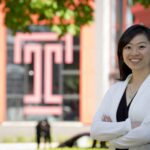 Chi-Ser Tran '16
---
Primary Areas of Interest: Low-wage immigrant workers' rights and language access
Ms. Tran earned a B.A. in Asian/Pacific/American Studies from New York University in 2009. She then served as a Programs Fellow at the American Constitution Society for Law and Policy in Washington, DC. She went on to become the Voting Rights Organizer at the Asian American Legal Defense and Education Fund in New York. She has worked with a wide variety of community leaders and organizations around the country to enforce and implement language access for Limited English Proficient (LEP) Asian American voters.
During law school, Ms. Tran developed a focus on employment-related legal assistance to low-wage, LEP Asian immigrant workers She completed internships with the U.S. Department of Labor in the Philadelphia Regional Solicitor's Office, the employment unit at Community Legal Services of Philadelphia, and Nationalities Service Center, as well as the Sheller Center for Social Justice Lawyering Clinic and the Temple Legal Aid Office Community Lawyering Clinic. She served as a Law Student Liaison to the Asian Pacific American Bar Association of Pennsylvania Executive Committee, and was active with the Asian Pacific American Law Student Association and the National Lawyers Guild chapters at Temple Law.
Ms. Tran was honored with a Peggy Browning Fellowship in 2014 and 2015 a Public Interest Law Student Award from the Public Interest Section of the Philadelphia Bar Association in 2015. She was a 2015 NLG Haywood Burns Fellow and a 2014 APABA-PA Judge William M. Marutani Fellow. Additionally, she has received the Henry Maxmin Scholarship, the Philadelphia Bar Foundation Young Lawyers Division Diversity Scholarship, and the UPS/NAPABA Law Foundation Gold Mountain Scholarship.
After graduation, she will represent low-wage and LEP immigrant workers as a Legal Fellow at Community Legal Services of Philadelphia, with funding from the Initiative for Public Interest Law at Yale.
Sela Cowger '17
---
Primary Areas of Interest: Immigration and refugee policy and advocacy
Ms. Cowger earned her B.A. in political science with departmental distinction and University honors from the University of Chicago in 2012. During her undergraduate years, Ms. Cowger was awarded a Jeff Metcalf Fellowship with the Young Center for Immigrant Children's Rights, where she served as a guardian ad litem for unaccompanied immigrant children. Her experiences with immigrant youth inspired her to change the broken U.S. immigration system and to pursue a public interest career helping vulnerable non-citizens access essential governmental and legal services.
For her 2L summer, she interned at the United Nations High Commissioner for Refugees in Washington, DC. For her fall semester, she will be interning with the State Department's Bureau of Population, Refugees, and Migration. Ms. Cowger serves as Executive Articles Editor for the Temple International and Comparative Law Journal and as a fellow with the Institute for International Law and Public Policy. She has also served as Vice-President of Academic Affairs for the International Law Society and as Co-Chair of the Immigration & Human Rights Committee of the Temple Law Chapter of the National Lawyers Guild.
In addition to the Rubin-Presser Social Justice Fellowship, Ms. Cowger was selected for Temple's Law & Public Policy Program and a Beasley scholarship.
Paige Joki '17
---
Primary Areas of Interest: Prosecution of domestic and sexual violence, racial justice advocacy and policy
Ms. Joki graduated summa cum laude, with department honors, from Whitman College (Washington) in 2014. As a Whitman undergraduate, Ms. Joki was a debate team member and coach. She also organized and designed a daylong student-led symposium on power and privilege, the largest and most attended event in the college's history.
Before and during law school, she interned with the Idaho Coalition Against Sexual and Domestic Violence; she has also held law school internships with the Sheller Center for Social Justice at Temple and the NAACP-Legal Defense Fund in New York. Ms. Joki has served as Co-Chair of Temple's Law Students for Reproductive Justice and Treasurer for the Family Law Society. Her professional interests include special victims prosecution and civil rights advocacy.
In addition to being a Rubin-Presser Social Justice Fellow, Ms. Joki is a NAACP Legal Defense Fund Earl Warren Fellow and was selected for the Hon. Louis H. Pollak Scholarship in summer 2016.
Anne E. Bonfiglio '18
---
Primary Areas of Interest: Immigrant and refugee issues
Ms. Bonfiglio received a B.A. degree from Trinity College (Connecticut), where she majored in Philosophy and minored in African Studies.  Prior to attending Temple, Ms. Bonfiglio was employed for four years as a Refugee Case Manager at the U. S. Committee for Refugees and Immigrants (USCRI) affiliate in Buffalo, New York.  In this position, she linked newly resettled refugee families with necessary benefits, medical providers, housing, and educational and employment opportunities.  Ms. Bonfiglio's interest in law was sparked while assisting several clients through the legal process, both as victims and perpetrators of crimes, and the focus of her studies at Temple Law is on immigrant and refugee issues.
Her 2016 internship placements include Community Legal Services of Philadelphia and HIAS (Hebrew Immigrant Aid Society) Pennsylvania. Ms. Bonfiglio has held positions as a 1L Representative to the Temple Law Chapter of the National Lawyers Guild and to the Student Public Interest Network (SPIN).
She is both a Rubin-Presser Social Justice Fellow and a Beasley Scholar.
Daniel Ceisler '18
---
Primary Areas of Interest: Criminal justice prosecution and policy
Mr. Ceisler graduated from The George Washington University in 2014 with a B.A. in Political Science and a minor in International Affairs with a concentration in Conflict and Security Studies. In May 2014, Mr. Ceisler commissioned as an Officer the United States Army Reserve. He spent five months stationed at Fort Huachuca, AZ where he completed the Military Intelligence Basic Officers Leadership Course and went on to become a Military Intelligence Officer assigned to the 304th Civil Affairs Brigade in Bristol, PA. Mr. Ceisler most recently served as the Deputy Campaign Manager for a Pennsylvania Supreme Court campaign. He has also served as a staffer on campaigns at the local, state, and federal levels. Mr. Ceisler served on the Philadelphia Youth Commission for four years, advising policymakers on issues pertaining to the youth of the City.
Mr. Ceisler, who is a native of Philadelphia, hopes to become a Philadelphia Assistant District Attorney after graduating from Temple Law.